Playmoove system garantees maximum configuration flexibility and client-facing integration. Although, it is possible to use client mobile and back office systems realized by Playmoove and provided in white label, customers willing to implement out of standard flows or searching for a unique and customized experience to manage their own business can realize independently report control panels or mobile applications with no restrictions.

Users and Clients Manager
Customer management, subscription process, validation of customer profiles and ID document.

Booking Manager
Reservation Management, with different state flows, according the different kind of "sharing" applied
Subscriptions Manager
Plans management, rates, subscriptions and discounts.
Billing Manager
Invoicing and cost files emission. E-Bill
Hardware devices Manager
Communication with vehicles and remote control of vehicle onboard communication HWs.

Payment Gateways&Manager
Payment gateways management – pre authorizations and charges.

Driving licences and IDs Manager
Check, approve and manage identification document and driving licenses.

Assets and Fleet Manager
Parking lots and vehicle management.

Federation System
Build a multiple-fleet ecosystem with a master account which can access all fleets and sub-accounts to manage every single fleet.
Customer Service API appliances
Customize and integrate Playmoove with third parties applications (e.g. Zendesk, IFFT, Quickbooks etc)

Damages Reports Manager
Damages management, maintenance and communication with users.

Rates Manager
Create and manage all the rates for you services.
Hundreds of Functions
Managing Your Business
Playmoove is an all-in-one solution for your business: every aspect is covered and you can pivot or spin-off your business if needed! In addition to the endless possibilities for customization, Playmoove guarantees the possibility to integrate or replace many of its modules with external applications without impairing the stability of the system.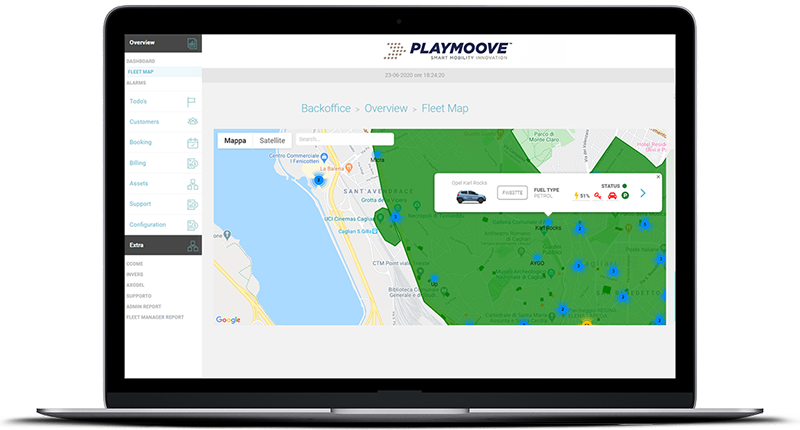 All this information can be overwhelming. The good news is, we are here for you!